Looking for that PERFECT date night? Bridal or bachelorette party? How about just a great night of theater at The Pocket? Opening on May 18 and running through June 16 is "PRELUDE TO A KISS", a charming, mysterious and romantic modern-day fairy tale. At Peter and Rita's wedding, a mysterious old man insists on kissing the bride. While honeymooning, Peter gradually realizes that the woman by his side is not his wife. The wedding kiss caused Rita's soul and the old man's to change places, creating chaos and humor in their relationships. Peter must track down the old man and free his young love's spirit trapped in an aging body before it's too late. A rare mix of humor, romance and emotion, yet teaching them the true meaning of love. Don't miss this uplifting and funny show!
Tickets are available online at pocketsandwich.com
FOR MORE INFORMATION PLEASE CALL OUR BOX OFFICE: (214) 821-1860
RESERVE ONLINE AT POCKETSANDWICH.COM
PHONE LINES ARE OPEN FROM
2:00 - 6:00 PM MONDAY THROUGH SATURDAY
2:00 - 5:00 PM SUNDAY
Our shows run Thursday through Sunday evenings. Food and Beverage Service are available one and a half hours before show time.
The theater is located at 5400 E. Mockingbird Lane, Suite 119. Dallas, TX 75206. For information call 214-821-1860.
We are "The Most Fun You Can Have In A Dallas Theatre" and have been since 1980!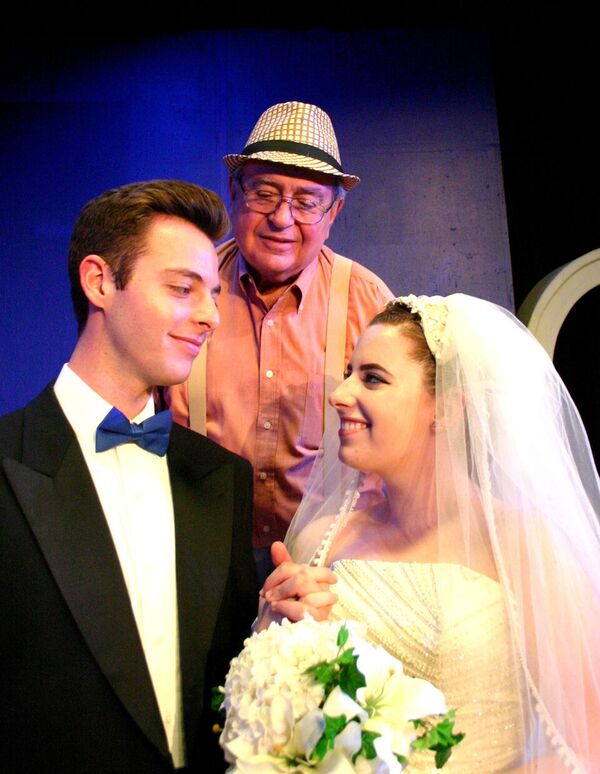 Groom: Jacob Neal Hopson, Old Man: Barry Hoffman, Bride: Sydney Perry
Photos by Rodney Dobbs